Kv'Var
[[|250px]]


Rank

Species

Gender

Male

Height

9'10"

Hair color

Purple

Eye color

Red

Affiliation

Notable Facts

A Ruthless Hunter Skilled fighter

Status

Alive

Portrayed By
 Kv'Var Is A 
Super Predator
. Kv'Var Wears A Diffrent Kind Of Armour. Kv'Var's Mask Is A Combination Of 
Scar
Celtic
Chopper
Jungle Hunter
City Hunter
Wolf
Berserker Predator
Falconer Predator
 And 
Tracker Predator
. Kv'Var's Rank Is 
Bad Blood
/
Berserker
. Kv'Var Killed the 
Lost Predator
 And Stole A 
Ornate Combi Stick
  Kv'Var Looks Like The 
City Hunter
Personality & Traits
Edit
Kv'Var Is, Apart From The Leader Of The Dark Hunters, Is A Very Cruel And Merciless hunter. Unlike the Mainstream Predators, Who Believe In Hunting Honorably, Kv'Var Brutally Kills Whatever Stands In Its Way, Armed Or Not. He Does Not Bother To Remove His Equipment When Engaging Both The Lost Predator And Dutch.
Kv'Var is the 2ind Predator in the film to claim a trophy.
Kv'Var Was Born On January 1 1960.
Kv'Vars Armor Covers His Entire Body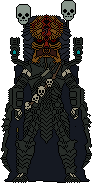 Ad blocker interference detected!
Wikia is a free-to-use site that makes money from advertising. We have a modified experience for viewers using ad blockers

Wikia is not accessible if you've made further modifications. Remove the custom ad blocker rule(s) and the page will load as expected.