On a mission to Xenomorph prime Xyantos was infected in a cave.Luckly he got surgery in time to remove the parasite.But instead of killing it they studied it while it was locked up in the Pillar of Inferno's science room.It has escaped and hasn't been found yet it has been killing off marines and elites.It killed a Predalien for dominance showing Sangalien is dominate.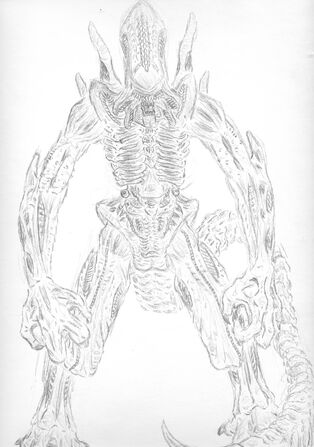 It can overpower most opponets easily.It has the acid spitting power.It has the strength of a queen.The Sangalien can impregnate victims like the Predalien with the mandibles.It uses it's mandible's teeth to clamp on the victim's temple's on the the side of the skull.The Sangalien has the height of the elite victim so Xyantos' Sangalien is 9'3.
Known elites infected
Edit
Xyantos (but was removed in time)
Grandis(Xyantos' father)
De'st'a(Xyanto's brother)
Ad blocker interference detected!
Wikia is a free-to-use site that makes money from advertising. We have a modified experience for viewers using ad blockers

Wikia is not accessible if you've made further modifications. Remove the custom ad blocker rule(s) and the page will load as expected.